This is Part Two of my series describing the most memorable stadiums I've been fortunate to work from. Last week I shared the cream of the crop regarding basketball environments. This week I'm listing my favorite places to call outdoor sports, both football and baseball.
U.S. Bank Stadium-Minneapolis, MN: This is cheating, because technically this is an indoor stadium, but full disclosure, I forgot to include it in last week's post. This stadium is the home of the Minnesota Vikings and has hosted both the Super Bowl and Final Four. It's an enormous state-of-the-art structure with a back wall and ceiling made of glass panels that allow natural light into the building but keeps out the Minnesota cold.
I was fortunate enough to call a high school state semifinal football game at U.S. Bank, and it was a very cool experience. It was the first time I called a TV-style call with replays and graphics to a big audience. They set us up in the national broadcast booth where Jim Nantz and Joe Buck call NFL games from. It was far and away the most spacious booth I've ever been in.
An added bonus, this was the place where I got to cross a line off of my bucket list watching the Final Four while working as a runner for the Westwood One crew. Watching one of the premier events in all of sports while being around the best radio production team is an experience that I will always associate with U.S. Bank Stadium.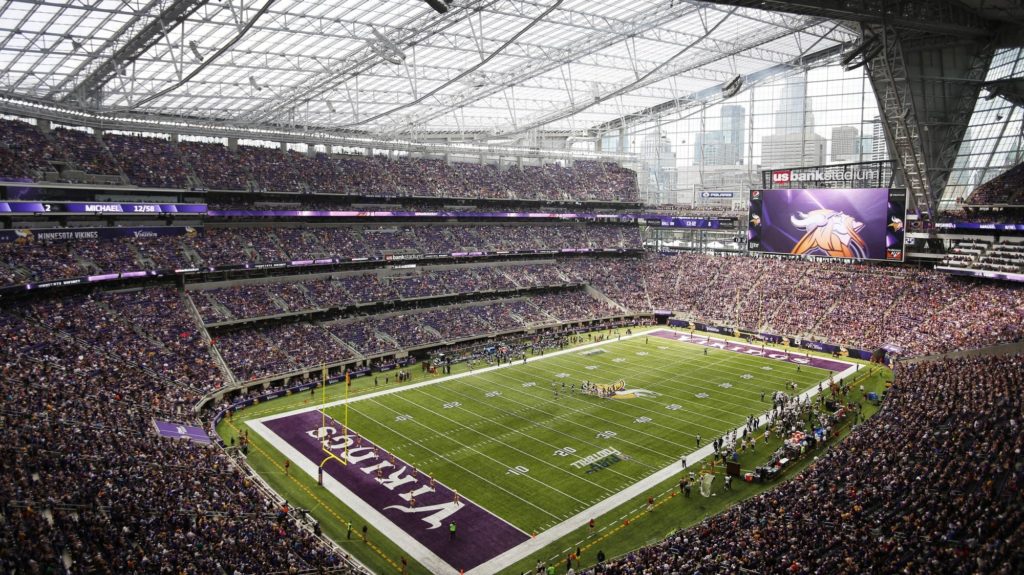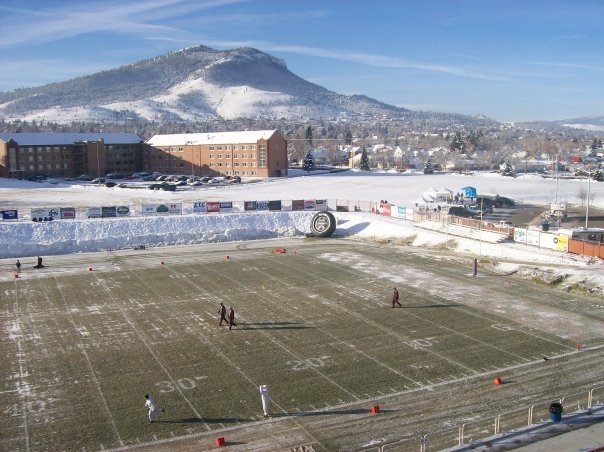 Nelson Stadium, Carroll College-Helena, MT: In many ways, this stadium is full of bad memories. The road trip there went horribly wrong, and we arrived less than half an hour before kick off after a long bus ride and rental car fiasco. Morningside went on to lose an agonizingly close playoff game, and we were forced to call the game in an outdoor crow's nest on a bitterly cold afternoon in Montana. What made this stadium so special was the sheer natural beauty around it. There had been a blizzard a few days prior, so the mountains in the distance were capped with snow. It was an incredible site, a great crowd, and an experience I'll never forget.
Bishop D'Arcy Stadium, University of St. Francis-Fort Wayne, IN: This is the second of two stadiums that houses memories of bad results for my teams, but darn it if it's not a cool environment! I covered two NAIA playoff games, both of which resulted in one-score losses to my alma mater Morningside College. But the mirror pond beyond the visitors bleachers is picturesque, and the home fans were a bit obnoxious but definitely loud and passionate. It helped my memories when Morningside beat St. Francis the next year on the way to their first national championship.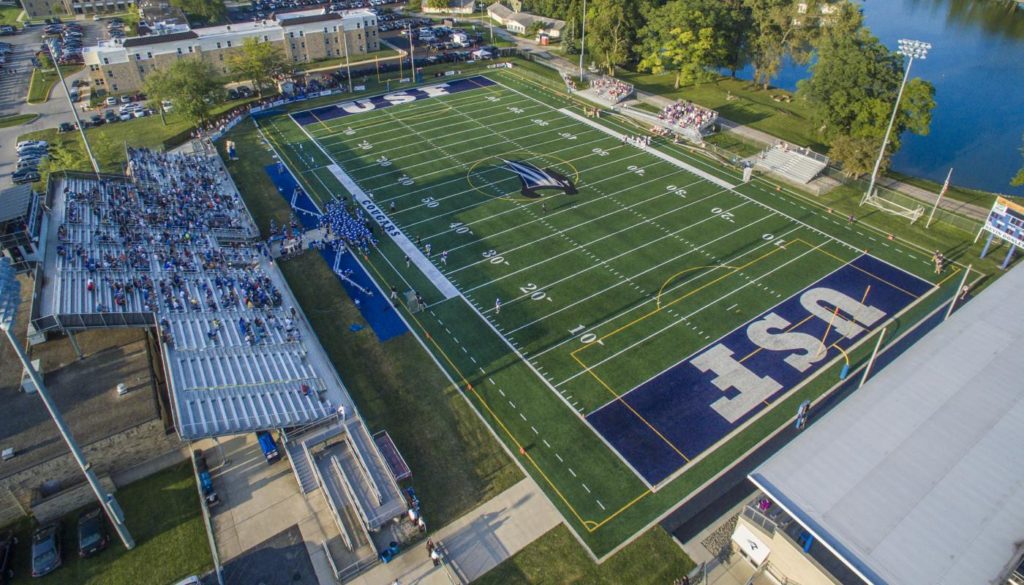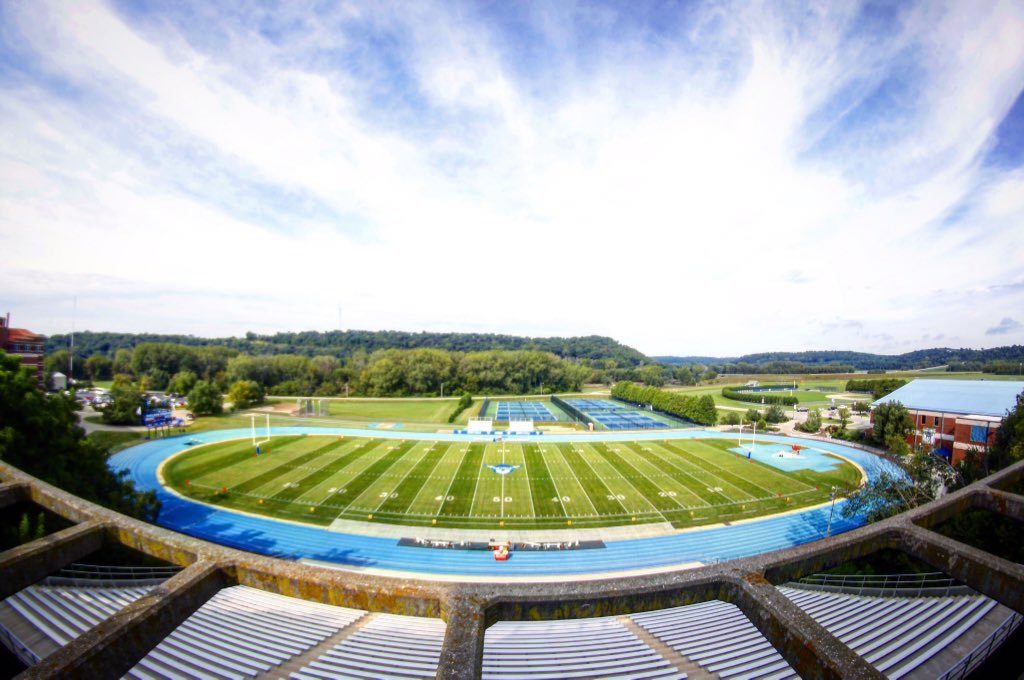 Carlson Stadium, Luther College-Decorah, IA: Leading up to this game, I was not excited. It was a 7 ½-hour bus ride to Eastern Iowa for the Presentation College Football season opener. When you think Iowa, usually you think of cornfields and hog farms. This stadium showcased the uniqueness of Eastern Iowa as it overlooks a breathtaking wooded valley in the fall. The leaves were turning a hundred shades of red and gold, and Presentation won on a last-minute missed field goal by Luther. The broadcast location was high above the field in a roped off area of the school's cafeteria that made it impossible to use a crowd mic or to have any ambiance for the broadcast. However, this place does get bonus points in my book because it has a soft serve ice cream machine just behind the broadcast location, and I refilled my bowl at halftime and postgame.
Parade Park-Minneapolis, MN: I called one game here and it was a forgettable contest between two metro area teams. This stadium is small without any real amenities, but the view is gorgeous. Maybe it's just the small-town boy in me, but seeing the Minneapolis skyline, the famous sculpture garden, and the fireworks going off at Target Field every time the Twins score in the background is a remarkable sight.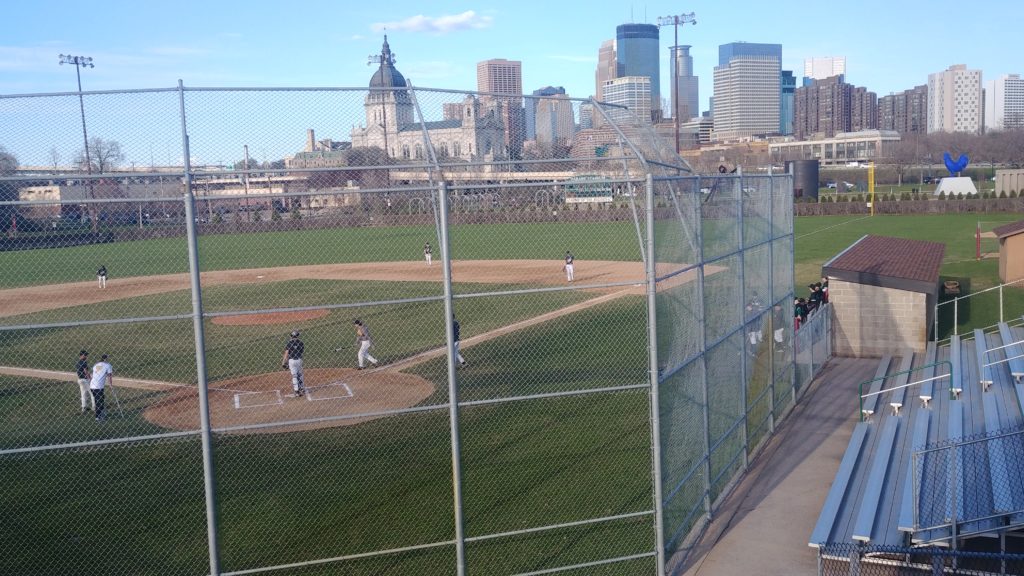 What are your favorite outdoor arenas to announce a game in? Share your stadium in the comment section below.