If you're a sportscaster, you likely have a love/ hate relationship with road games. We get to travel to unique places and see cool things on the dime of the team we cover. We also get sent to places where, unless you have friends and family to visit, there is no reason for anyone to intentionally go. Many people view sportscasting as a glamorous job, but us sportscasters know better.
I've been a professional sportscaster for about eight years and went on the most demanding road trip of my career last week. We left at 6 a.m. on Sunday, Jan. 3 and got back at 2 in the morning on Sunday, Jan. 10. We went through four states and spent approximately 35 hours in a bus that bears a strong resemblance to the one from the movie "Major League."
Here are a few highlights and lowlights from the expedition: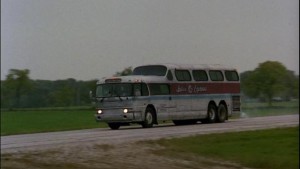 *We left at early Sunday so we could make it to Denver in time to make the Nuggets game in the evening. Leading up to the game I emailed Nuggets Media Relations Director Tim Gelt requesting a media credential and he kindly granted my request. I had the opportunity have a nice conversation with Jason Kosmicki, the Nuggets play-by-play announcer. I discovered that he's originally from my home state of Nebraska and he generously agreed to listen to and critique a clip of my work. The game itself was pretty dead and there were only two other people in the press area because the Broncos were playing the Chargers for the #1 seed in the NFL playoffs at the same time. [Special thanks to BSN blogger Harrison Wind (Twitter @NBAWind) who showed me around the building and helped me from getting lost in the huge arena.]
*We had a day off on Monday so I was able to get most of my game prep for the next day finished early and enjoyed the excellent craft beer selection in Denver. I reconnected with a friend from my college days and used Uber for only the second time in my life. My driver Salim promised to listen to our game and follow up after. I'm still waiting with baited breath for that follow up…
*Tuesday was game day and the broadcast went smoothly. Presentation got a nice win over Johnson & Wales. After the win the coach was so happy he took the entire team out to Red Lobster. This is especially notable because usually budget limitations mean that traveling with an NAIA team requires you to subsist off of a diet of pizza, subs, and fast food.
*Wednesday was a travel day and we rode the bus from Denver to Omaha. We stopped half way through to have a shoot around and made it to Omaha by 8 p.m. My family lives in a small town 20 minutes from Omaha and we met up for a late dinner. During the season, living six hours from home and having the demanding schedule of a sportscaster means I don't get to see family very frequently. It was a special treat to stop at home.
*We had our second day off with no games or travel on Thursday. On Wednesday, the team's Thursday shootaround plans fell through and being from the area they asked if I knew a gym they could get into. I made a few calls and we ended up practicing at my old high school. Since I had home court advantage, I challenged our assistant coach, a former pro player overseas, to a game of pig and won! The team still hasn't let him forget about it.
*Friday, I finished game prep and we bussed 4.5 hours from Omaha to Forest City, Iowa. The team lost to Waldorf College. After the game, the head coach was upset and made the entire team wait to eat dinner for two hours. We stopped at Taco Bell on the way back to Omaha (No Red Lobster after losses, I guess). We zipped back to Omaha for one more evening.
*I had done much of my Saturday game prep ahead of time, but had to wake up early to touch up my notes. I had lunch with my youngest sister, who had been unable to make it to our first rendezvous. Presentation played well against a very good team — Bellevue University — but the zebras weren't as upset- minded, calling the game in a way that awarded Bellevue 49 free throws and Presentation just 22. We then bussed home with a few pit stops and got back at 2 a.m. Sunday morning.
I wrote this blog not to say "look at me I'm awesome," or to say "woe is me," for spending 35 hours on a bus that feels every bump in the road. Instead, I wanted to write about this because the times I'm on the road and journeying through the evening are when I feel the most like I'm making it. My dues are being paid each mile along the way and one day, because of this travel and this journey, I'll be riding home on a charter plane looking back on this seven- day road trip through South Dakota, Colorado, Nebraska, and Iowa and laughing.