The last few weeks have been a blur. After the Say the Damn Score World Tour/ Chicago vacation, I've been packing, trained my replacement in Aberdeen, called my first football game of the year, tried to spend time with the friends I've made over five years before leaving, moved and unpacked, and was a groomsman in my younger sister's wedding. As a result, my post frequency has been down over that time frame. Don't fret! I started my new job and everything will get back as close to normal as a sportscaster's life can be.
For my first post back, I want to discuss my philosophy on a topic that's been trending on sportscasting Twitter timelines — spotting boards!
Spotting boards are like pieces of art. One person can look and see something beautiful and informative. Others may look at the same thing and see unorganized gibberish. With that in mind, I'm happy to share my methods and process in the hope that elements of what I do may be helpful for someone, but it's obviously up to you to decide what works for you.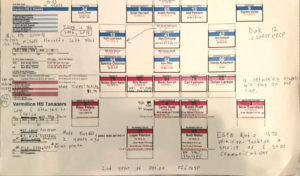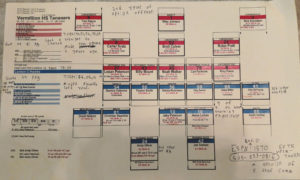 I received the basic layout of my board from Scott France, who was a mentor of mine in college. I have customized it over the years, but I wanted to give credit to the original creator. I use two pieces of legal sized paper taped together to make a double-sided flip chart. Using a formatted Microsoft Excel document, I put all of the names and numbers of the offensive players in something visually close to their base formation. I then do the same thing with the defensive players of the other team facing opposite of the offensive players. I type all the basic information in, including height, weight, year in school, and relevant stats for each player. I color-code the boxes with each team's colors: nothing complex, but it's effective in helping to find information quickly.
In addition to individual information, I try to get team information on the left side of the chart. This includes information on the head coach, basic total yardage and yardage allowed stats, turnover margin, 3rd and 4th down percentage, and the schedule and scores from the current and previous years. This is also where I include specialist information on the kickers, punters, returners, etc.
After this is finished, I print everything and then write notes by hand in the margins. This is where I write records about to be broken, interesting personal facts about specific players, and whatever other story lines I really want to drill into my brain for each game. I find that hand writing things helps me to memorize them. I would hand write the entire thing but my penmanship is so bad that it is nearly completely illegible when I write in small print.
This may sound like 'coach-speak', but to me the process of creating my spotting boards is more important than actually using it in the game. If I look at my board 10 times during a game, I would be surprised. What it really does for me is help memorize the most important information where it's easy to recall once the action is underway.
If anybody wants a copy of what I do, I'd be happy to trade charts via email with anyone who reaches out (contact me here). I'm also open to ideas of what are effective for others in the industry. Have a great call this weekend!