What makes a great broadcaster? Is it a booming voice? Is it a deep knowledge of the game? Those two things can help but what really sets a broadcaster apart from the crowd is their level of preparation. Most people do the basics, like making sure you know name pronunciations, interviewing coaches, and memorizing starters. It's the next-level stuff that really gives a broadcast depth and texture. Digging through newspaper articles for biographical info, going to practice to get a feel for that week's game plan, and whatever else it takes to get the nuggets of information you need for your broadcast.
The challenge of course is always finding time! Most sportscasters are only able to practice their craft part-time. That means the majority of your day is taken up by a full-time job. My career is no exception. I do local ad sales and am paid on commission. As a result, 99% of my prep time comes outside of the traditional 9-5 work pattern, because if I don't make sales when businesses are open, I don't pay my bills.
I cover two games almost every weekend, which means that I'm constantly looking for ways to streamline and make my prep process more efficient. This year, at the STAA Retreat, Jay Sanderson, the voice of Montana State football and basketball, gave a great suggestion to our group. He said that before the season starts, he identifies the newspapers and websites that are likely to have articles on all of the teams he will cover that year. He then checks them once a week for articles on those teams, and when they have something, he simply copies the address into a word document without reading it. This way, when you eventually play each team, you have a document with numerous articles on the team to read when the time is right. This saves time digging for information the week of your broadcast. To make things even easier, simply set up a Google alert for each team on your schedule. This way 90% of the articles on each team come directly to your inbox without having to search through cyberspace.
At the STAA retreat in July, we also discussed a couple of products that Jay planned to market, and he was kind enough to send me his new down dial and football scorebook to try out. I always try to be totally transparent in these situations. Jay is not a sponsor of this site and I am not paid to review these products.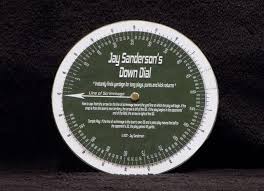 The Jay Sanderson Down Dial: The moment Jay showed me a picture of the Down Dial I knew I needed to have one. I am very much right-brain dominant and have always struggled with numbers and math. During football broadcasts this weakness was especially glaring because I have a hard time adding up yardage quickly on long plays, especially when they cross midfield. The Down Dial more or less immediately solved this problem. You simply spin the dial to the yard line, look for the yard line that the play finished on, and it shows you exactly how long the play was. I used to metaphorically punt when it came to letting the audience know how long a punt or kick return was. Not anymore. It would be nice if the dial was made out of sturdier material, but that is the only nitpick I have. I love this product.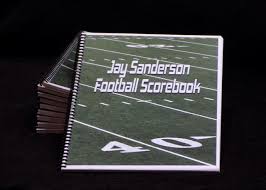 The Jay Sanderson Scorebook: Historically I have not kept stats during high school football games. I could never find a way to keep accurate stats that was quick and intuitive. I've used The Jay Sanderson Scorebook for most of my games this season, and I must say, I like it. It provides an easy way to keep a drive chart as well as individual stats. It's put together in a way that is simple and easy to use. The biggest problem for me was mostly user error. After not keeping stats for the last decade unless there was a stat monitor, it took some getting used to and my stats ended up being somewhat inaccurate. I would simply forget to mark down a play occasionally in the heat of the moment. Also, Morningside College frequently runs an up-tempo, no huddle offense and it's especially difficult to get everything written down between plays when they only use 10-15 seconds of play clock. The biggest benefit I see is that once I get better at keeping accurate stats, it will provide a great archive to look back on. It's often like pulling teeth finding old box scores. If you keep stats in a book it's all right there for the taking. I would definitely recommend using the Jay Sanderson Scorebook. I would also suggest making a few loose copies and practicing while watching a game on TV a few times before taking out to your first game.
I feel comfortable personally recommending both products. I like the scorebook and I love the down dial! If you want more info on the two products visit http://sportscastingsource.com/
Never miss a new SayTheDamnScore.com post by signing up for email updates
Get expert feedback on your play-by-play from the SayTheDamnScore Critique Crew!