The last two weeks of games have been pretty un-noteworthy. I've had scores of 70-10, 76-21, 54-0, and 21-12. Not a whole lot of drama. With that in mind, I figured now would be a good time to go through several sportscasting hacks that make calling a game easier. Whether it's in helping identify players faster, making your broadcast setup easier, or being more comfortable while broadcasting, these are a few things I've learned over the years that makes life as a sportscaster a bit easier.
Always Bring Duct Tape: Duct tape may be the number one tool for handy-men and farmers, but it's also magic for sportscasters. In football or baseball games where you find yourself on a roof, fork lift, pickup truck bed, or other inconvenient place, it's the best way to keep papers and prep materials from blowing away in the wind. It's even helpful when you're inside a press box with an open window or in a gym where a loose ball or stray player gets too close for comfort. With duct tape your materials stay organized and in order.
It has also saved me as a short term solution for keeping shorted or frayed chords in just the right position to allow me to finish my broadcast. I once had the locking tab on my phone cord break in my bag to the point where it wouldn't stay in my sport mix. I got disconnected multiple times during my pregame show and had to figure something out. The solution? I slapped some duct tape over it to hold it in and made it through the rest of the way without a hitch.
I use duct tape to cover up long extension cords that have to run across an aisle where someone could trip and disconnect me or even get hurt. It sticks to just about any surface you could ever want to hang a station banner on. I'm sure there are purposes that I haven't even discovered yet! The moral of the story, I never leave the station without a roll!
Defensive Spotting Charts: For years, I made my football spotting charts to mirror the base formation of both the offense and defense. This worked great on offense because it was always easy to tell what position the person with ball played. On a handoff it's a running back. A completed pass involves the quarterback, and a wide receiver. It's all pretty simple and obvious.
On defense, however, it's not as easy. When players are getting pulled off of a pile, there is no obvious way of telling whether the person you're looking at is a safety, a linebacker, or a defensive end. The preci
ous moment you spend searching your chart for a specific number instead of knowing just where to look can create an awkward pause or take time away from your analyst.
The solution was so obvious that I kicked myself for not coming up with it on my own.  It wasn't until Jay Sanderson, the voice of the Montana State Bobcats, brought it up at the STAA Retreat in San Diego that I found a solution. The simple answer was to put your offense in formation and simply list all the players on the defensive two deep in numerical order. Since then it's been much easier to quickly find information on my boards for defensive players.
Wear Comfortable Shoes: Dressing professionally for a broadcast is important. You don't want to look like a scrub in a t-shirt and shorts around coaches, athletic directors, and fans. However, I don't know about you, but often when calling football I like to stand for the call. It adds a bit of extra energy, improves your view, and just feels right. With that in mind sometimes standing for three hours in dress shoes can really do a number on your feet. Avoid the distraction and discomfort of foot pain by wearing tennis shoes, cross trainers, or my personal favorite…running shoes. It may look a little bit goofy wearing running shoes with slacks and a polo or button down shirt, but if someone is judging your shoes that intensely for a radio job, then you probably don't want to work for them anyway.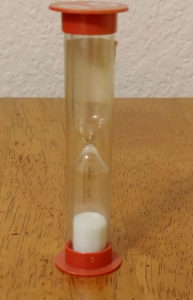 Forgetting To Say The Damn Score?:  If you find yourself forgetting to say the score and just can't seem to get in a rhythm in the flow of the game, dig into your board game collection and find an hourglass sand timer. Most of them run out in 60-90 seconds and you can simply get in the habit of saying the score every time the bottom fills up with sand, flip it over, rinse and repeat. Over time you will get to a point where you simply look at the timer and know it's time to say the score. After more time you will get in a habit where you no longer need anything and just remember it on your own.