I'm posting these updates a day after they actually occurred. This account took place on Sunday, August 7th.
We began the Say The Damn Score World Tour with a bang! On Saturday, my fiancée and I drove to a small town lake house in South Central South Dakota. It was in the middle of nowhere, even by South Dakota standards, which means that the mob probably has bodies buried there. We boated, drank beer, and ate red meat in honor of my sister and her future husband.
A family matter set us back about two hours before we started our drive to Manhattan, Kansas, where we met up with James Westling and his wife Tia. James Westling of Rocking M Radio in Salina, Kansas covers the Bethany Swedes and other games on the KCAC Network. I had previously connected with James via email discussing this site and sportscasting in general. They showed us around the Kansas State campus and led us to a spot with a beautiful view of Bill Snyder Stadium. We then went to Aggieville, an area of bars and restaurants near campus, where we met up with James' friend Brady Bauman, the News Director for KMAN in Manhattan. John Kurtz, the voice of K-State baseball and Manhattan High School sports, who I hung out with each of the last two years at the NSMA Convention and One Day Ticket Seminar each of the last two years also joined us. We had dinner, drinks, talked shop, and enjoyed the evening.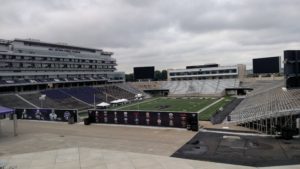 We had one final stop to make before checking in for the night. We stopped at the Manhattan Christian College dorms where Jordan Strom, the assistant basketball coach and assistant athletic director for MCC, and former Presentation College assistant coach who I worked with in the past is living. We hung out with his wife Becca and two kids before driving back to Salina where we crashed for the night at the Ambassador Hotel, where James had very generously set us up at for no charge through his radio station trade account.
That was it for day one. Tomorrow we trek to Kansas City and what should be an excellent day two!